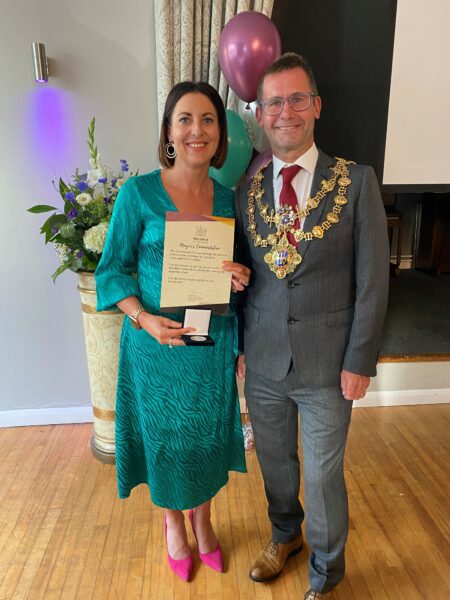 We are delighted to share with you that on Friday 8 July, Mrs Julia Hallam received a mayor's commendation from the Executive Mayor of Mansfield, Andy Abrahams.
Mrs Hallam is our personal development, behaviour and attitude lead, with responsibilities for attendance and safeguarding, and, to quote a colleague Miss Fawke, "everything else in between!"
Mrs Hallam has been serving the community for the past 24 years and is a dedicated and passionate member of the Wainwright family. She is renowned for her work both within the academy and community at large, including being involved in the mini police initiative, free afterschool care provision, the Wainwright football club and child protection work.
Councillor Marion Bradshaw nominated Mrs Hallam for the 'Youth and Community' award, and when asked why, Cllr Marion responded: "In my dealings with Julia I have always been impressed with her caring and compassionate attitude and the way she looks after the interests and wellbeing of children at the school. Her enthusiasm is truly inspirational and infectious and I'm sure that this is felt by the children to whom she is a true role model. That's why, when the Mayor asked me to recommend someone for a mayoral commendation, Julia's name was the first to spring to mind."
Mrs Hallam has taught in the early years setting for 16 years and as part of her work for the pastoral team she also supports a number of our children and their families. Mrs Hallam was delighted to attend the award ceremony, saying: "I was surrounded by a room full of amazing people who go above and beyond every single day. I was overjoyed to receive this award which I will treasure forever."
Lucy Spacey, executive principal, added: "We are absolutely thrilled for Julia. This award is wonderful recognition for her outstanding dedication to supporting our children and their families. Julia is a great example of putting our vision to create brighter tomorrows into action – everything she does has the community at its heart and she is much valued member of the Wainwright team. On behalf of the academy, congratulations Julia!"